What to consider when buying an apron
When you think about aprons - did you know they come in a range of sizes??
Well they do! AND Aussie Chef Clothing Company carries one of the widest selections - from cute, short waist aprons to full size extra long bib aprons. Often the choice is a personal one, or perhaps to match a colour scheme, however, sometimes it is guided by the type of work being done.
Aprons are a very functional part of a uniform for many reasons:
to keep clothes clean & tidy
for added protection from things like heat, water, food & beverages, flower blooms, dirt, hazards, hair, chemicals, paint & other art materials
to hold pens, tablets, tools of the trade in easily accessible pockets
to create a professional look - quite often personalised with logos or names
Not just one size fits all
No matter what your requirements - there is an apron for you. We feel it is important to offer our customers a wide range of choices in aprons - both in style and size but also in design and function. So to help you understand the differences we have compiled our aprons first into bib or waist and then into different sizes of each to help you make a more informed decision when choosing your next apron. 
Regular Bib 70 x 86cm
Most aprons fall into the Regular Bib category, covering the torso to below the knee. This apron size protects you from almost anything and has just the right amount of fabric around your waist for great coverage without being too bulky.
Our really popular BELLA and ARCHIE Denim aprons with Mix & Match cross back straps fall into this size category, as well as the colourful ICE CREAM range. AVA in a durable lightweight linen is also a smart choice. Our BASIC black & whites are a favourite in culinary kitchens - just the right amount of coverage with freedom of movement. Our PARIS apron also falls into this category at just 2cm skinnier - due to the nature of the striped fabric it is constructed from.
London Chef Bib 86 x 86cm or 86 x 100cm
A few of our aprons favoured by chefs are a bit wider or longer. The ever popular LONDON in black or navy stripe is one of our longest at 86cm x 100cm, allowing full coverage down the front. Our tried and true CHEF BIBS in traditional black or navy stripes and MONACO range in black & white are 86cm x 86cm allowing for full coverage around your waist and down the front. Also in this size is the understated CROSS BACK in black, often seen on front of house staff in fine dining venues.
Medium Bib 70 x 82cm
There has been a trend for aprons to be just a bit shorter - in most cases just touching the knee. We have answered this request with a redesign of customer favourite
CANTINE
, our very popular
OSKA
, lightweight denim
JACKSON
and our signature
OUTBACK
denim cross back.
Short Bib 72 x 70cm or 66 x 77cm
Our new MIA denim apron is short, cute & sassy - it has been hit form day one! Some of our customers desired the coverage of a bib apron but a shorter above the knee style allowing greater ability to move about quickly - so MIA was born. Our distressed leather look BARBER apron also falls above the knee and has become a favourite with baristas, bartenders and barbers alike.
Long Bib 90 x 120cm
Our longest and widest apron the longer PVC, is ideal for wet, messy areas and when you need absolute full coverage from splashes and spills.
Full Wrap
Our HANNA Pinafore, a smock or Japanese-style apron, just slips over your head for full wrap around coverage - oh so comfortable and yet could be mistaken as part of your outfit!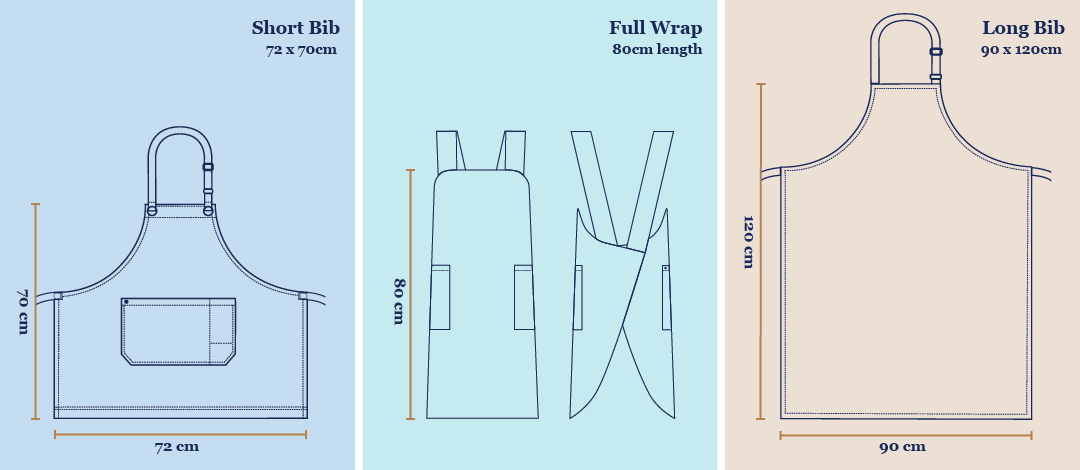 Short Waist 70 x 40cm or 70 x 44cm
Shorter in length, well above the knee, they are super comfortable and provide ease of movement. Most of which still have handy pockets to store your essentials. Our MIA waist in three colours of denim, black, navy and chambray is running out the door! Our cotton canvas CANTINE also has a cute short waist option. The BASICS range has both black & white 1/2 waists with or without pockets.
Mid Waist 86 x 70cm
These aprons fall below the knee for a polished, professional look. Available in two styles - our BASICS black & white and GREY COMBO with contrast colour pockets and ties.
Utility Pouch 30 x 26cm
Cleverly compact and efficient with pockets for every need, with an adjustable waistband in four different types of denim - simple yet practical! The UTILITY POUCH is ideal when you really just want the pockets - but not necessarily the apron.
So Which Size?
Well, first have a think about what you want to use the apron for. Secondly, who will be wearing it - chefs, waiters, baristas, bartenders or outside the hospitality field like florists, health & beauty experts, schools, the list goes on. Thirdly, choose the style you prefer, bib or waist and then explore sizes and colours. You may even decide a mix of styles is just what you are after. Either way, Aussie Chef is sure to have the right one for you - and if you are unsure, just reach out to us here. We are always ready to help!
Did you know we can help you with personalising your aprons with logos and/or names? Yes, we can! Choose from beautiful embroidery or screen printing at competitive pricing. Then when you receive your aprons - you are ready to put them on and get to work - looking fabulous!
Peruse our full range of aprons here.
Check out our Size Guide for both aprons and chef wear here.