Choosing the Right Apron Fabric
These days aprons come in many styles, colours and fabrics - so the search for the right apron can be daunting. Aussie Chef Clothing Company has spent years researching and testing apron fabrics and thought it would be a good idea to take some time and explain the different choices available.
Aussie Chef has a wide range of chef aprons from simple everyday black and whites to colourful aprons to aprons with signature embellishments. You can choose from styles like classic bib, cross back, pinafore or waist. And then there are the fabrics - leather, denim, cotton, linen, poly blends, pvc and nylon.
All of our aprons are designed to be hard wearing, but all fabrics wear with age and have some limitations. Depending on the fabric composition, colours may fade or may stay vibrant wash after wash. Some may become more relaxed in appearance, or wrinkle and perhaps need pressing, while others look fresh straight out of the laundry. Our aprons are designed to be unisex and therefore suitable for men and women. We hope this article will help you decide which fabric is best for your needs.
Factors that can influence Apron appearance
Frequency of washing
Types of washing powders & liquids
Water quality & temperature
Line or machine dried
Exposure to sunlight or UV
Stains - time left untreated
Drycleaning
Aussie Chef aprons are all designed with double stitching on all edges, bar tacking on pressure points and quality hardware - press studs, rivets and eyelets - so that no matter which one you choose you will receive a well made apron.
100% Cotton Denim
Everyone LOVES denim! So it's a super popular choice in aprons! It's durability and easy care is a plus. And denim aprons just look great - like a favourite pair of denim jeans. Our denim aprons are one of our most consistent sellers and with 6 styles to choose from there is sure to be the right one for you.
See Archie Denim, Mia Denim, Jackson Denim, Outback, Barber, Utility Pouch
Benefits
Comfortable to wear
Durable & hard wearing
Breathable, pure cotton denim
Fabric becomes more relaxed after repeated washing
Designed to fade over time like your favourite jeans
100% Cotton / Cotton Canvas
Cotton is a beautiful natural, absorbent fabric to wear! Our cotton and cotton canvas aprons are a heavier weight to ensure they are durable and long lasting. And your colour choices range from muted neutrals to vibrant, deep colours! Our customers love the range and keep coming back for more.
See Cantine, Oska, Ice Cream, Grey Combo
Benefits
Relaxed & comfortable to wear
Breathable, natural cotton fibers
Intense colours will naturally fade over time
Fabric becomes softer & more relaxed
Leather
Leather aprons can be seen to be a luxurious purchase - but leather is also a very practical, long lasting choice too. Aprons have been made of leather for centuries and are worn in many industries for its protective qualities. Today leather aprons are also chosen as a unique statement piece and are popular with barbers, baristas and bartenders.
See Axil Leather, Riley Leather
Benefits
100% durable long lasting cowhide leather
Heat and spill resistant
Protective and practical
Soft, luxurious feel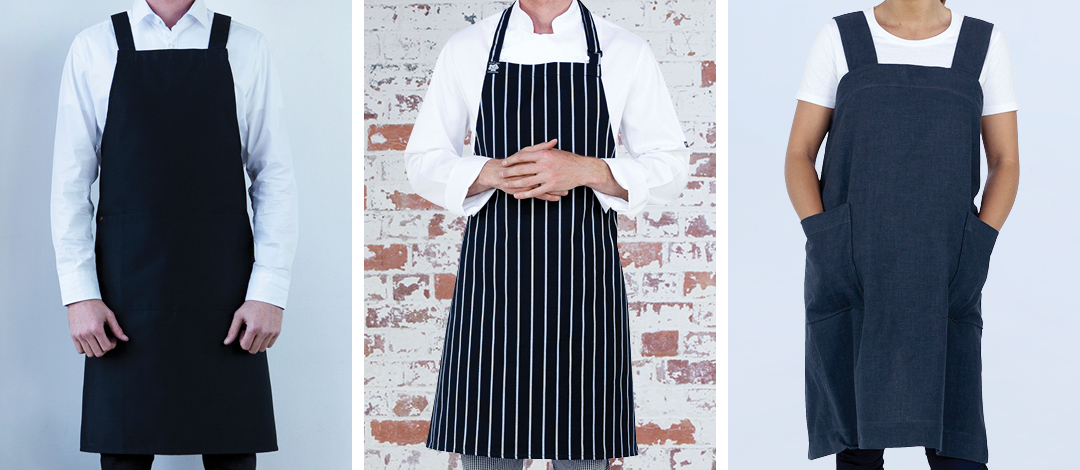 Poly/Cotton
Poly/cotton blend chef aprons are an excellent for chefs, cafes, restaurants, commercial kitchens, healthcare and hospitality uniform requirements. Poly/cotton fabric has increased fabric strength while being lightweight. It is colourfast so blacks stay black, colours resist fading. Easy to care for and maintains its great looks for longer.
See Alex Chef Bib, Bella, Monaco, Paris, Heavy Weight, ProChef Basic Black & White
Benefits
Beautiful to wear with a professional look
Increased fabric strength with poly/cotton thread mix
Hard wearing & protective - ideal for commercial use
Greater resistance to colour fading - looks brand new longer
Poly/Viscose
Poly/viscose blend aprons are a go to apron for chefs - these navy/white or navy/black stripe aprons are a favourite addition to the traditional chef's uniform - chef jacket, chef pants & striped apron. The poly blend has increased fabric strength, resists fading and wrinkling - looking great wash after wash - ready to tackle the busy day or night ahead.
See London, Chef Bib, Butchers Bib
Benefits
Professional, lightweight choice
Increased fabric strength with polyester & viscose fibers - resistant to wrinkling
Hard wearing & protective - ideal for commercial use
Greater resistance to colour fading - looking new longer
Linen
Linen is a lightweight, natural fabric that is so comfortable and lovely to wear. It is ideal for when you desire a lightweight apron - one you might even forget you are wearing! Our pinafore apron is often mistaken as part of the wearer's outfit. An ideal apron for cafes, florists, artists and more.
See Ava Linen, Hanna Pinafore
Benefits
Beautiful wearability
Natural, breathable pure linen
Colours may slowly fade
Fabric becomes relaxed & softer - linen may wrinkle
PVC
Waterproof PVC is the ideal choice for aprons needed in wet or spill prone areas. A favourite in kitchen wet areas, in school food tech, art and de- sign tech classes. Soft, lightweight and 100% waterproof - these aprons are easy to care for - just wipe clean with a damp cloth & hang to dry.
Benefits
100% waterproof fabric
Soft yet durable
Easy care
Colours remain vivid
Nylon
Nylon is also a sturdy, lightweight, waterproof fabric and is ideal for wet, messy areas. Super easy to keep clean & colours remains vivid.
Benefits
Comfortable to wear, lightweight & durable
Waterproof fabric
Easy to keep clean
Branding - Embroidery and Screen printing on Aprons
Aprons are the ideal canvas for embellishment! Embroidery or screen printing really standouts - making your branding a feature of the apron while adding a touch of personalisation to your workplace. Choose to add your business logo, names or a combination of both!
Aussie Chef can help you create just the right look with your branding - and arrange everything for you - taking one thing off your list of To Do's! Ready to start the process? Just enquire here.
Apron Care Guide
We have also compiled a handy Apron Care Guide to help you understand apron fabrics and their care instructions - view Apron Care Guide.
Questions?
If in doubt, our friendly staff is available to assist you in your selection via chat, email or phone. We also carry a wide range of chef uniforms - chef jackets, chef pants, chef caps, clogs and accessories.
To see our entire range of aprons and chef uniforms visit us @ aussiechef.com.au