Chef Jackets & Chef Pants Size Guide
It's important that your chefwear - chef jackets and chef pants fit you well - so you feel confident and ready to take on the day ahead. You want to make sure they are comfortable - giving you room to move about quickly but not too loose that they catch on things - as you race against time in your busy kitchen.
Aussie Chef Clothing Company has put together a comprehensive Size Guide for their entire range of chef jackets, chef pants, aprons, chef shoes and accessories - to make sure you get the right size for your needs and requirements.
Not Just One Size Fits All
We feel it is important to offer our customers a wide range of options - both in style and size but also in design and function. It is important to find the right style and fit in a chef jacket. You want it to be a good fit but be comfortable with room to move quickly. Pay attention to how it fits not just over the chest but across your shoulders and arms.
This article highlights the elements of the Chef Jackets and Chef Pants Size Guide to help you make a more informed decision, as many of our chef jackets and chef pants are available in both unisex and womens sizing - some with a classic fit and others with a more tailored fit.
Measurement Guidelines
Follow these simple guidelines for taking your measurements, to help you choose the right size Chef Jacket or Chef Pants and get the best fit for your body shape. With a measuring tape measure around the following areas and write them down. Enlisting the help of a friend or family member will make it easier!
Chest - Measure the circumference (all the way around you) at the fullest part of your chest/bust with arms down.
Waist - Measure around your natural waistline (above your hips) for the most accurate measurement.
Hip - Measure all the way around the widest part of your hips.
Unisex Size Chart
ALEX Chef Jackets
The ALEX Chef Jacket range has three styles, Zipper, Press Stud and Cool Mesh Button - designed for the modern Chef looking for something a bit different in Chefwear. One of our most popular Chef Jacket ranges - ALEX has a more tailored fit and is constructed from a super cool fabric with or without fine weave mesh side panels. These Jackets look so good on, are easy to wear, and keep you cool in the busy confines of a kitchen.
Although the ALEX Chef Jacket range is unisex, it is just as popular with women as it is with men because of its tailored fit. As you can see in the size chart above ALEX Jackets have their own measurement chart to make sure you get just the right fit. ALEX is available in XS to 2XL.
Chef Jackets
The rest of our chef jackets follow the main sizing chart - this includes both our Traditional and Modern Tunic in long and short sleeve, the professional Executive with black piping, our ProCool range, the urban Street Chef denim jacket and the ultra cool New York.
Traditional and Executive chef jackets with a traditional fit have the widest selection of sizes ranging from XS to 4XL to cater for almost every chef. Both Modern Tunic and ProCool have a more generous straight cut and range from XS to 2XL. Our signature jackets are slightly more fitted - the edgy Street Chef denim in S to XL and the beautiful New York in soft, two-tone grey in XS to XL - both of which are popular with female chefs too.
Chef Pants
Aussie Chef's unisex chef pants in both traditional check and black are made to fit and feel great with a comfortable elastic waist band and drawstring for easy adjustment. Not too baggy, but not too tight - keeping busy chefs cool and free to move. They have a wide size selection ranging from XS to 4XL to cater for all shapes and sizes.

Womens Size Chart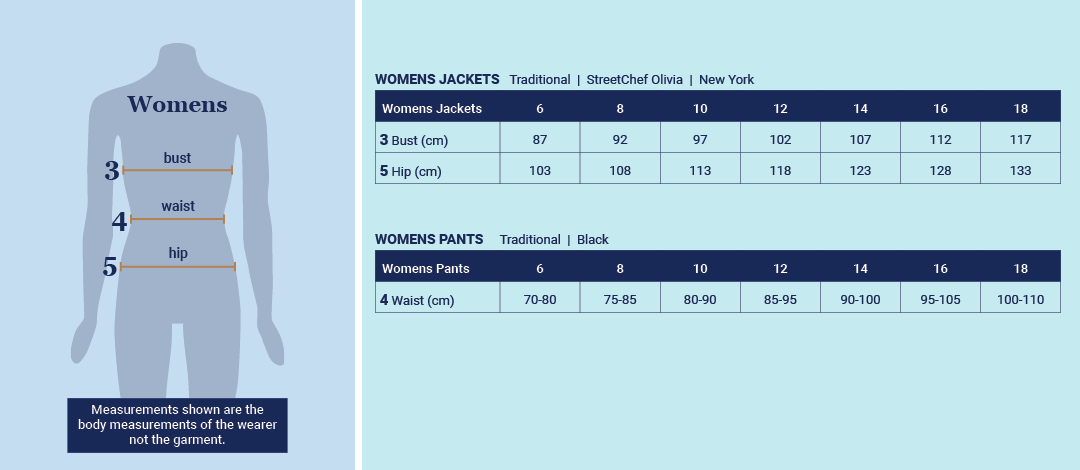 Womens Chef Jackets
At Aussie Chef we realise that sometimes unisex chef jackets are just too baggy for women. So we designed our Womens Traditional Chef Jacket in both long and short sleeve, white and black in specially tailored womens sizing - from 6 to 18. See sizing chart above to find your correct size.
Although our ALEX Chef Jacket range is unisex, it is really popular with women because of its tailored fit. It is available in three styles, Zipper, Press Stud and Cool Mesh in both black and white. See the unisex size chart further above for the ALEX Jackets measurement chart to make sure you get just the right fit. ALEX is available in XS to 2XL.
Street Chef and New York are also popular with women looking for a point of difference - see the unisex sizing chart above.
Womens Chef Pants
Womens chef pants have a more tailored silhouette and fit. Designed with the same comfortable elastic waist band and drawstring for easy adjustment as our unisex chef pants. Available in both traditional check or black in a great selection of womens sizes - 6 to 18.
Getting Just the Right Fit
At Aussie Chef we believe it is important to get the sizing right the first time so you are ready to go when your new chef jackets and pants arrive. That is why we have put together this article - to help you get the right fit - especially if you are new to Aussie Chef Clothing Company.
Most importantly we want you to be really happy and excited with your new gear!
But be rest assured, if for some reason you get the fitting incorrect - we have a very good exchange/returns policy - view it here.
To view our complete size chart for chef jackets and pants as above - but also for aprons, chef clogs, chef hats and accessories - click here.