The origin of the Chef's Uniform
The origins of the chef's uniform is credited to the well-known French chef, Marie-Antoine Careme. In 1822, he sketched two chefs in uniform, to depict what he thought was the ideal look for a chef, and his desire to instil a sense of professionalism to the industry. In the late 1800s, this uniform became more commonplace. Today, many chefs still wear a similar, but more modern take on this timeless tradition.
Traditional Chef Uniform:
Chef Hat or toque blanche (French for 'white hat')

Chef Jacket - double-breasted

Chef Pants - traditional check or black

Chef Apron - traditional stripe, white or black 
Chef Shoes - clogs
The Chef Hat or Toque (Arabic for 'hat', popularised by the French as Toque Blanche or 'white hat') was the first item of the chef's uniform.
Hats were not only worn to keep hair from falling into the food. In the beginning, the size of the hat denoted the hierarchy of chefs in a kitchen, the taller the hat, the more knowledgeable or important the chef was. The pleats were not only just a fashion detail, rather the number of pleats implied how many recipes a chef had mastered. The wearing of hats was also a sign of solidarity in the kitchen.
Today, the chef hat has been standardised to between 9-12 inches tall,with a generic number of pleats. Most chefs still wear hats, often preferring a simpler version like our Aussie Chef box hats, baseball caps or disposable hats.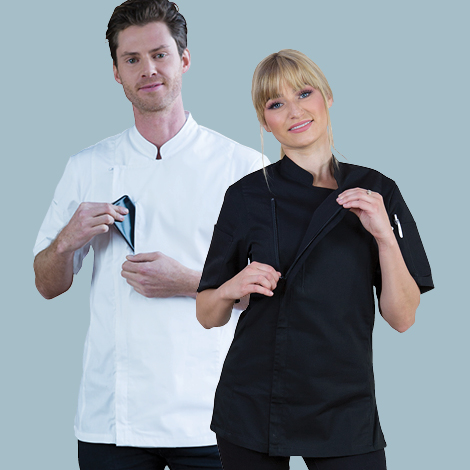 The double-breasted Chef Jacket serves many purposes. First, the double front gives the chef more protection and insulation from hot liquids, spills, heat and other hazards of the kitchen. Secondly, it allows a chef to reverse the front to mask any spills and stains. Thirdly, it exudes a sense of style and uniformity.
In the beginning chef jackets were white as a symbol of cleanliness and professionalism, white also reflects some of the heat in a kitchen. Today, white jackets are still popular for the same reasons, but also because they can be bleached clean. These days, more and more chefs and kitchen staff are wearing black chef jackets or choosing something different, like our popular StreetChef Denim Jacket or dark grey New York Jacket.
Chef jackets are still double breasted for heat and spill protection, but many have zipper closures or press studs instead of the traditional button closures, like our tailored ALEX Chef Jacket range and the Modern Tunic Chef Jacket. The traditional long sleeve, while still available and a great seller, has been replaced in popularity by short sleeve versions, which allow ease of movement and are cooler to wear in the heat of the kitchen.
Chef Pants
Models wearing Aussie Chef Traditional Chef Jacket, Trad Check Chef Pants, Chef Apron & Clogs
Traditional Chef Pants are black and white check (or hounds-tooth pattern), which is designed to hide or camouflage food and grease stains. The pattern makes it hard for the eye to see the stains easily. Chef pants are usually a loose fit, with elasticated drawstring waist, to help keep chefs and staff cooler in the kitchen, also allowing for ease of movement and to . Today, black chef pants are just as popular as the traditional black and white check pattern, whether by personal choice or creating a uniformed look for the whole staff.
Chef pants are available in unisex or women sizes, and are made of durable, easy care, lightweight, washable poly/cotton, with side and back pockets, with high quality pants having reinforced stitching and bar tacking on pressure points.
Chef Aprons are the best way to give added protection to chefs and kitchen staff alike, not only for protecting their uniform and clothing underneath, but also as another layer of defence from hot surfaces and spills. Traditionally, chef aprons are black, white or striped, in either a bib apron or waist apron style, in durable, hard-wearing poly/viscose or poly/cotton fabrics. Today, the choice of aprons is endless, coming in various fabrics and designs, like the Cantine 100% cotton canvas weave, Hanna linen, Archie classic denim or Barber distressed leather look - making the chef apron a tool to add a unique look to the whole chef uniform.
Chef Shoes
Chef Shoes are an essential part of the chef's uniform providing support and protection for long days on your feet.
In even the best restaurants, the kitchen floor is often hard, unforgiving, concrete covered with stiff rubber mats. And no matter how clean it is at the beginning of the day, as soon as prep and service begin, it quickly becomes slippery with grease and water spills.
Our Aussie Chef Clogs or Chef Shoes are an ideal choice, made from soft waterproof EVA material with a slip resistant sole, are designed to be safe, durable, yet very comfortable. One piece construction with no back strap makes them easy to wear, just slip on and slip off. Chef clogs are completely washable, with replaceable inner soles. Unisex in a wide range of sizes from 37 to 45.
Aussie Chef Clothing Company is the ideal one stop shop for all of your Chef Uniform requirements, with over 600 items, including a great selection of chef jackets, chef pants, chef aprons, chef shoes and accessories. Whether you are looking for the traditional looking chef uniform or wanting something a bit different and more modern, you will find it at Aussie Chef.
Models wearing Aussie Chef Street Chef Denim Jacket