Calling all schools, universities, tech schools & students!
When it comes to aprons, Aussie Chef Clothing Company has been a school apron supplier for over 36 years.
Choosing the right school aprons will depend on their intended use and in small part the schools personal choice. An aprons length, coverage, style and material can help determine how an apron should be used. Aussie Chef has over 30 different apron styles, in various colours and fabrics, so you are sure to find just the right apron for your students. Our friendly staff is also happy to make suggestions if you just can't decide.
School uniform aprons are ideal for food tech, design tech, art studios, chef & hospitality training, floristry, hairdressing & beauty therapy classes. School aprons often are a functional part of a uniform, but they are also a form of protection. Aprons are used to keep clothes clean & tidy, for added protection from things like spills, food, dirt, germs, hazards, chemicals, paint, art materials or even to just hold pens, tablets and tools.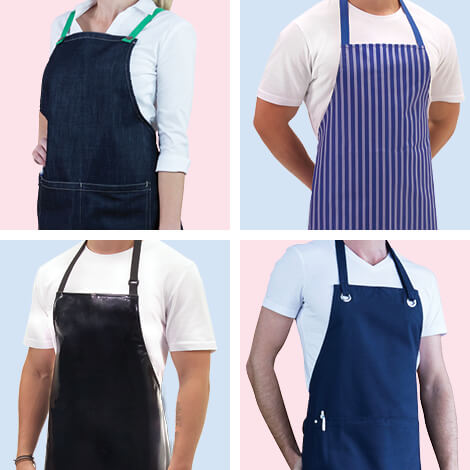 Styles of Aprons
The bib apron is the most common type of apron providing full body protection and come in all types of fabrics and styles. A waist or utility pouch style apron allows for easy movement but with the convenience of pockets to store your essentials. A pinafore apron is also a great alternative full coverage apron with a loose fit that makes it also extremely comfortable. In wet or messy environments, PVC or nylon aprons are an ideal choice for keeping your clothes dry and are easy to keep clean with a damp cloth, drying quickly.
Apron Recommendations for Classes
• Food Tech & Design Tech
Aussie Chef offers some great options for food tech and design tech student aprons, whether you are after PVC aprons that are waterproof or want more hardwearing, washable aprons.
Our PVC waterproof aprons come in two lengths and various colours. These aprons can be easily cleaned by simply wiping them off with a clean damp cloth.
For hard-wearing aprons - our ARCHIE Denim, MIA Denim, OSKA or 100% cotton CANTINE canvas weave aprons are an ideal choice. Our simple HEAVYWEIGHT Black & White aprons are also a good fit.
• Art Studios
Art studios often provide student aprons to wear within the studio. Our denim aprons area great option - ARCHIE Denim, MIA Denim, or JACKSON Denim. Our new HANNA Pinafore is the ideal apron for creatives, with its loose full-body coverage. Its one-piece construction means you just slip it over your head. With colourful splotches of paint scattered across the fabric, the students aprons over time become gorgeous artworks themselves.
• Chef & Hospitality Training
Our CHEF BIB and LONDON aprons - traditional striped aprons - are extremely popular with chefs and a great choice for apprentices - the poly/ viscose fabric looks great wash after wash, and is available in black or navy with thin white stripes. These aprons are a great staple to any chef's uniform.
Or our tried and true, ProChef Black and White Essentials - available in a range of bib and waist styles are simple, lightweight aprons, popular within the hospitality industry and training schools worldwide.
• Hairdressing & Beauty Therapy
Hairdressing and beauty therapy students also need protective wear. Our heavy-duty ARCHIE Denim, MIA Denim, HEAVYWEIGHT Black & White aprons or waterproof PVC/Nylon aprons are a great choice for these types of classes.
BRANDING
Aussie Chef can help you personalise your school aprons with your school branding. They are also a great idea for gifts or fundraising opportunities.
These are just a few recommendations, with over 30 different styles, Aussie Chef Clothing Company is sure to have just the right apron style and colour. See our full range of aprons at aussiechef.com.au.