Believe it or not, one of the most important parts of a chef's uniform is their choice in footwear. Professional chef shoes are about far more than just appearance - they are about health and safety. Kitchens are tough environments to work in with floors that are usually hard, unforgiving concrete covered in stiff rubber mats. And no matter how clean it is at the beginning, the floor quickly becomes slippery with grease and water spills.
Chefs often spend 12 to 16 hours a day on their feet perfecting their culinary delights - so it is vital that they have comfortable, supportive, slip-resistant shoes. The same goes for all of the supporting kitchen & bar staff as well. Therefore it is important to choose the right type of chef shoe to ensure you are not wasting time and money on ill-fitting, inappropriate footwear.
Chef shoes need to look smart - but also provide support, comfort and protection in the busy kitchen environment.
Aussie Chef Clothing Company has put years into researching chef shoes - so let's look at some of the aspects that should be considered when choosing chef shoes.
Chef Shoes Features to Consider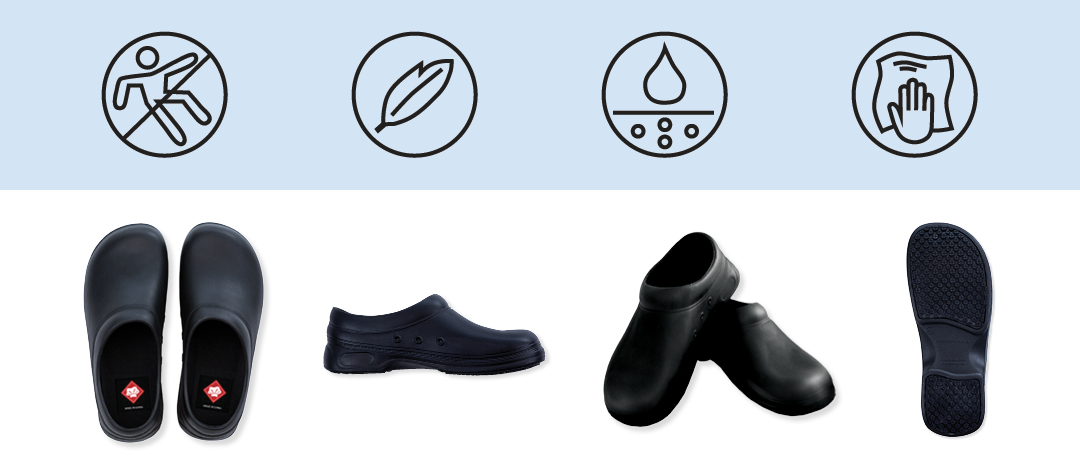 Slip Resistance
One of the most important factors in high quality chef shoes is the ability to grip the floor surface - especially when it is slippery due to drops or spills. Timing is everything, so chefs need to be confident on their feet without having to worry about sliding, slipping or even worse falling. Choosing chef shoe soles with anti-slip technology is the way to go.
Material
Chef Shoes can be constructed out of various materials like heavy-duty canvas, leather or innovative EVA material. Aussie Chef's 'wear all day' clogs are made in this soft waterproof EVA material - which is designed to be slip resistant, safe, durable, yet very comfortable.
Slip Ons vs Laces
Most Chefs prefer to wear slip on/slip off chef clogs over shoes with laces for the simple reasons - no laces mean no tripping or needing to retie dirty laces at crucial moments. Chef clogs on the other hand are easily slipped on and off. Chef clogs are often one piece construction.
Comfort & Support
Chefs require shoes that can meet the demands and grueling hours of being on your feet all day or night. Chef shoes need to be comfortable with good arch support and shock-absortion qualities. Choosing lightweight footwear with extra breathability will help you keep cooler in the hot, busy kitchen environment.
Removable/Replaceable Insoles
A good insole provides additional support for your feet as well as shock-absorbtion, molding itself to the shape of your foot. It also helps prolong the life of the shoes.
Protection
Chef shoes need to protect the wearer from possible spills like water, hot oil or broths and food scraps. As well as a barrier from dropped sharp objects. Aussie Chef's clogs in waterproof, protective EVA materrial are an exellent choice.
Easy to Clean
Ideally, chef shoes should be easy to clean - even completely washable - to prolong their life, but also to make sure the chef or kitchen staff's uniform looks professional and clean from top to bottom.
Aussie Chef Clogs
Aussie Chef's very own brand of 'wear all day' chef clogs are for professional chefs who are on their feet all day. Comfortable and soft yet hard wearing - their one piece construction made from innovative EVA material with a slip resistant sole are functional, durable and protective. With no back strap it makes these chef shoes SO easy to wear - just slip on and slip off!
Fully washable, with replaceable inner soles, our chef shoes withstand the hectic environs of the modern kitchen, cafe or restaurant. Available in a wide range of sizes from 37 to 45.
As one of the most competitively priced chef shoes on the market - combined with their superior quality and comfort - you can see why they are literally WALKING OUT THE DOOR!
Features
- soft EVA material - 'wear all day' comfort - easy care & fully washable
- easy fit
- slip on slip off
- one piece construction with no back strap - slip resistant sole
- replaceable inner sole
- available in sizes 37 to 45