Welcome!
We are SO EXCITED to introduce our NEW range of Just for Kids Aussie Chef Junior Chef Clothing. This SUPER CUTE collection featuring our exclusive Junior Chef Aprons, Junior Chef Jackets and Junior Chef Hats is tailored just for children.
Designed first and foremost with kids in mind, Junior Chef Clothing is made with the utmost care and attention to detail, but more importantly with Love by Aussie Chef and constructed in KID-SAFE, pre-shrunk, durable 100% COTTON.
SURPRISE your Junior Chef with a Junior Chef Jacket, Apron or Hat or a whole Complete Outfit!
These kids' chef uniforms will help nurture their PASSIONS whether it be cooking, baking, experimenting or just helping mum or dad in the kitchen. Also perfect for pre-school, school-age, weekend or holiday programs to make students feel and look just like professional chefs and bakers with a size range from 6-13yrs.
Now, let's take a look at our Aussie Chef Junior Chef Clothing Collection….
Junior Chef Jackets
Our NEW Junior Chef Jackets are constructed in kid-safe, pre-shrunk, 100% Cotton fabric. These children's Chef Jackets feature long sleeves for safety that can be rolled up if required & easy to use press studs for kids to get on and off with no fiddly buttons.
At Aussie Chef Clothing we want our kids to look like a professional. So, we have designed our Junior Chef Jacket like our adult chef jacket with a double-breasted front, tailored for kids in a size range 6-7, 8-9, 10-11 and 12-13.
Super easy to care for these 100% cotton, pre-shrunk Jackets look great wash after wash. We bet your Junior master chef or master baker would LOVE to have an Aussie Chef Junior Chef Jacket of their own! Perhaps choose one for each special child in your life!
Junior Chef Aprons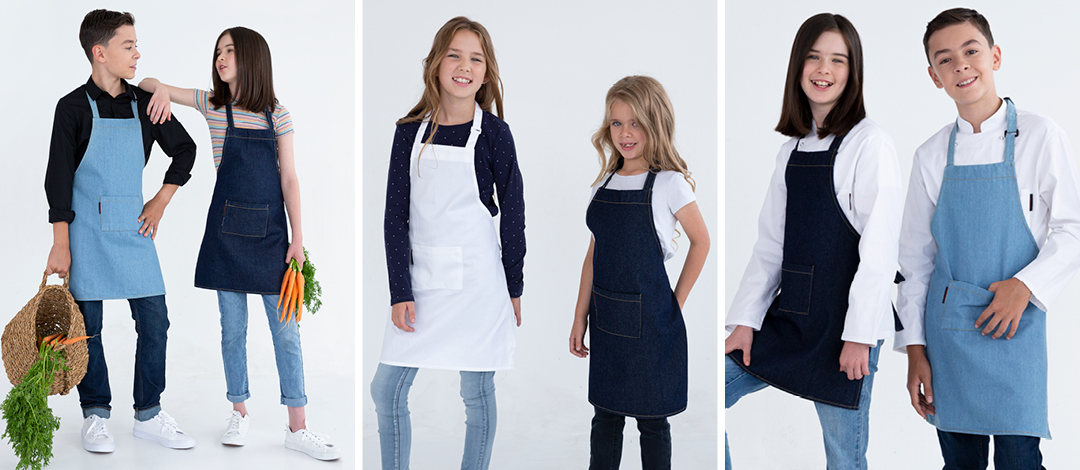 Designed for kids - in just the right size - our NEW range of Junior Chef Aprons come in 3 gorgeous colours - beautiful chambray denim, deep navy blue denim or stunning white cotton. All of which are kid-safe, durable 100% cotton fabrics. These aprons make it easy for kids to keep themselves clean while following their DREAMS!
Our Junior Chef Aprons are ideal for kids who LOVE to bake or cook, budding artists or even keen garden helpers. These aprons are perfect for any child from pre-school to school-age and art programs too. Just like an adult apron but tailored in a size just right for kids.
Like all Aussie Chef Uniforms, our Junior Chef Apron range is made to the same high standards with quality stitching and bar tacking to make sure they last. With easy to care for instructions they will keep looking great wash after wash.
AMAZE your Junior master baker, chef, gardener or artist with their very own Aussie Chef Junior Chef Apron! And don't forget their siblings - as they are sure to want one too! Or stock up to outfit a whole art or cooking class.
Junior Chef Hats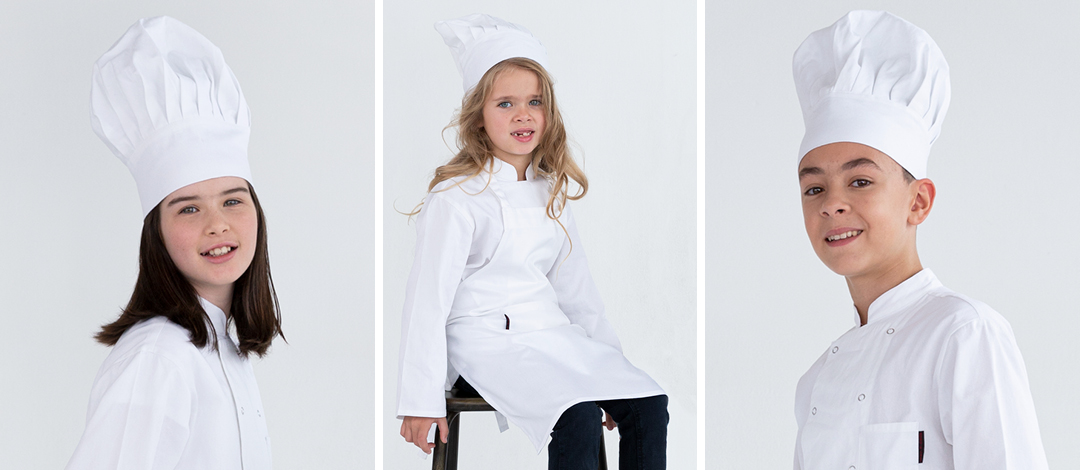 SURPRISE your Junior Chef with an Aussie Chef Junior Chef Hat and just imagine all the great photos you will capture!
Exactly like an adult chefs hat but in kids sizes! Our NEW Junior Chef Hats are constructed in kid-safe, pre-shrunk 100% Cotton. Simple and easy to wear with an expandable head band, these hats come in 2 sizes, Small & Regular. Your Junior Chef can make their hat stand tall or flop over for a really cute lop-sided look. Chef hats help kids keep their hair in place while busily cooking and baking and make them feel like a real chef.
Super easy to care for, the Junior Chef Hat is made to the same high standards as adult chef hats.
Whilst our Junior Chef Hat is great FUN for kids on its own GET THE LOOK with a Junior Chef Jacket or Apron making the complete Kids Chef Uniform!
Personalise Junior Chef!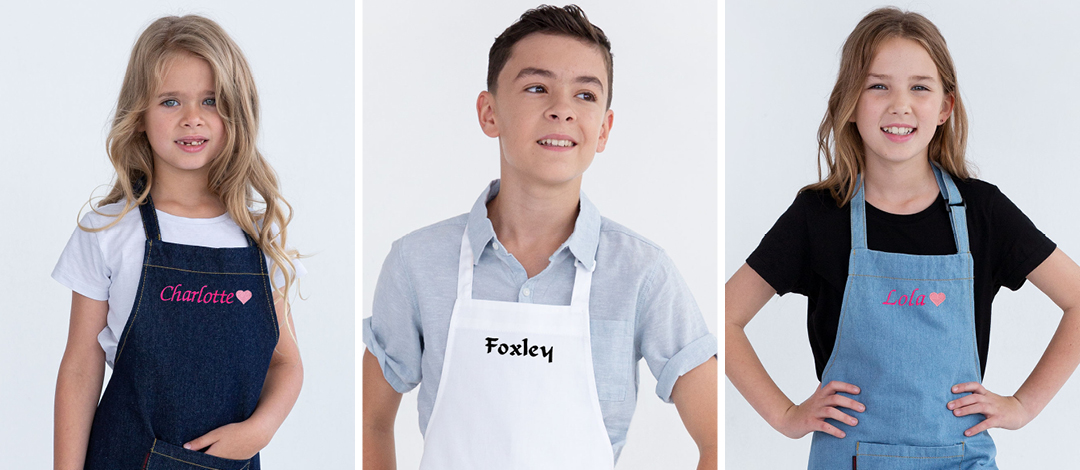 Want to make it even more special?? You can have your Junior Chef's name or initials embroidered onto their Junior Chef Jacket or Apron in a choice of styles and colours!
To find out how, just Contact Us before purchasing.
Get the Look with your KIds Chef Uniform!
Why not outfit your Junior Chef with a complete Junior Chef Clothing look??
It's easy to do. Just select a Junior Chef Jacket in their size, choose their favourite colour Junior Chef Apron and pick which size Junior Chef Hat you want. Consider whether or not you want to embroider their name on it, just Contact Us first if you do.
Their reaction when opening the parcel will be PRICELESS!
They will LOVE dressing the part just in time to help cook dinner or get ready to do some serious baking - YUM!
NURTURE their interest in cooking and baking - it will set them up for LIFE!
Aussie Chef for Older Siblings or Adults!
Like our Junior Chef Clothing range Aussie Chef has matching Jackets & Aprons for an Older Sibling or the Adult Chef or Baker! For Aprons choose from our denim MIA or LEO - or MONACO, CANTINE or HEAVYWEIGHT in white.
For Chef Jackets take a look at ALEX or ARLI.
We are absolutely THRILLED to launch this super cute selection of Junior Chef Clothing!
Please take a moment and browse through our kids chef uniform collection, Aussie Chef Junior Chef Clothing - we are sure you will find just the right item for the Junior Chef in your life!
These cute Junior Chef Jackets, Aprons and Hats also make a perfect gift idea! Give your special young ones a gift they will
cherish for years to come!

Junior Chefs wear Aussie Chef Junior Chef!