What are the Different Types of Aprons?
Choosing the right hospitality aprons will depend on their intended use and personal choice. An aprons length, coverage, style and material can help determine how an apron should be used. As gender roles have blended, aprons these days are more or less unisex, meaning aprons for men and aprons for women are often the same with a few exceptions like the pinafore. Aussie Chef Clothing Company has over 30 different apron styles, in various fabrics and colours, based on the types listed below.
Bib Aprons
Bib aprons are the most traditional and popular style of apron with an adjustable neck loop and waist ties. This apron has evolved from the basic black and white to include various styles, colours and fabrics. These aprons cover your torso to the knee and usually have multiple pockets, making them very versatile. They are ideal for branding with logos and names. Chef aprons, hospitality aprons, gardening aprons, cafe aprons and cross back aprons are all popular versions of this apron. Aussie Chef Clothing has the widest selection of aprons in Australia with worldwide shipping.
Cross Back Aprons
Cross back aprons are similar to the bib apron, except that the apron straps sit on your shoulders and cross over your back, taking the strain away from your neck. Cross back straps come in either cloth or leather look strap apron choices and in some styles the apron straps are removable so you can change colours and looks easily.
Waist Aprons / Utility Pouch
Waist aprons and Utility pouches do not provide upper body coverage. Shorter in length, usually well above the knee, they are super comfortable and provide ease of movement. Most styles come with pockets to store pens, tablets, order pads and other tools of the trade. Making waist aprons and utility pouches an ideal choice for people on the move like front of house staff, waiters, and even barbers, hairdressers or florists.
Bistro Aprons / Cafe Aprons
Bistro aprons or Cafe aprons are full length waist aprons, and although they do not cover the torso, they do provide more leg coverage. These also often have pockets making it easy to have what you need at hand. Popular with both chefs, butchers and front of house staff.
Pinafore / Smock Aprons
Pinafore aprons, sometimes called a smock or Japanese apron, are one size, and easily slip over your head providing full body coverage. They are stylish and comfortable with wider fabric straps on your shoulders. They easily accommodate different body shapes.
Waterproof Aprons
PVC and Nylon bib aprons are ideal when you need an apron that is waterproof and spill resistant. These are ideal for kitchen staff, dishwashers, laboratories, school food tech classrooms to keep clothing underneath dry and free from spills. These aprons can be easily cleaned by simply wiping them off with a clean damp cloth.
Denim Aprons
Denim aprons come in bib, cross back, waist and utility pouch options. These days denim aprons are first and foremost a fashion driven choice, but they are also a stand out for being modern, durable, hard wearing and comfortable to wear.
Signature Aprons
Designer aprons made from unique fabrics or with interesting fasteners, buckles and detailing are a great choice when looking to create a state- ment and stand out from the crowd.
What are the Uses of Aprons?
Today aprons often are a functional part of a uniform. Many business owners choose aprons for their staff, adding their branding for a profesional look. But they are also a form of protection.
Aprons are used to:
to keep clothes clean & tidy

for added protection from things like spills, food, dirt, germs, hazards, hair, chemicals, paint, art materials
to hold pens, tablets, tools of the trade in easily accessible pockets
as part of a uniform
for a professional look with branding
Why You Should Use Different Aprons
The bib apron is the most common type of apron, but they can sometimes feel restrictive, so if you need to move around a lot, another style might work better such as a waist or utility pouch style for easy movement but with the convenience of pockets to store your essentials.

A pinafore apron is also a great alternative full coverage apron with a loose fit that makes it also extremely comfortable to wear. In wet or messy environments, PVC or nylon aprons are an ideal choice for keeping your clothes dry and are easy to keep clean with a damp cloth, drying quickly. Aussie Chef Clothing Company, which is based in Melbourne, Australia, has a wide range of aprons for sale, to satisfy all your requirements shipping anywhere within Australia and worldwide.
Benefits of Using Aprons
The benefits of aprons are varied, depending on the industry, but overall these are some examples:
to have handy pockets for pens, tablets, phones, tools

to protect clothing underneath from the materials being used

as part of a uniform, possibly with company branding

to add a professional look to kitchen and front of house staff
for added protection from art materials, gardening, chemicals, food, water, etc
Industries that use Aprons
There are so many industries that use aprons. The most common is the food, beverage & hospitality industry - with chefs, kitchen staff, pastry chefs, bar tenders, baristas and front of house staff wearing all types of aprons. Or food related professions such as bakers, green grocers, florists, butchers, barbeques, food trucks, school classrooms or simply cooking at home. Aprons are also popular in the beauty industry with hairdressers, barbers, beauticians, spas, nail salons, often choosing to protect their clothing and have access to handy pockets. Some medical professions are also choosing aprons in laboraories, aged care facilities, podiatrists, physiotherapists, to name a few. Some artisans also favour aprons, such as artists or art studios, glass makers, metal workers, wood workers.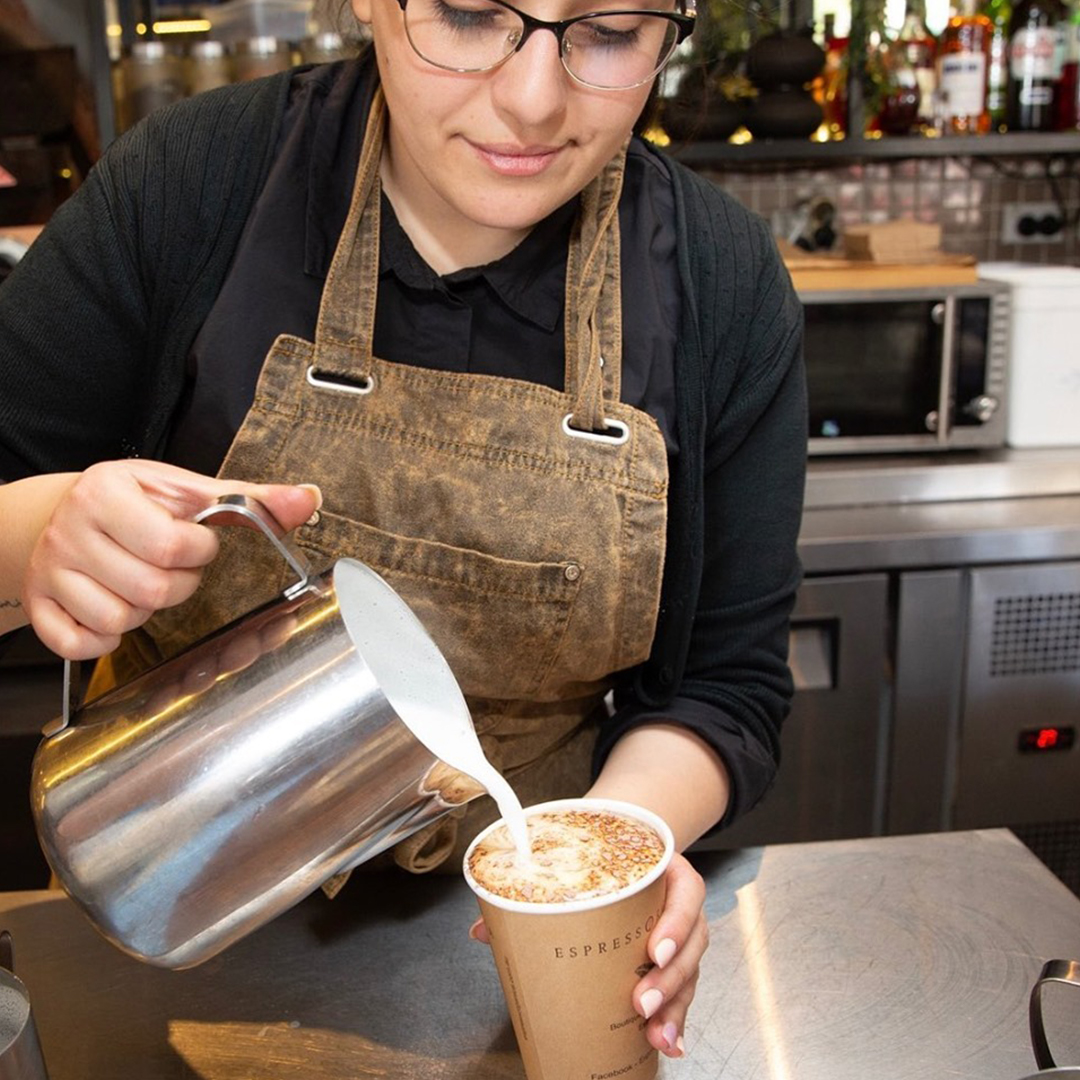 Cost of Aprons According to Type
Aprons are an affordable addition to any wardrobe, but will vary in price depending on the fabrics, fittings & design. Aussie Chef provides aprons in price categories to suit any budget.
Bib aprons are available from $13, waist aprons from $7.50, waterproof aprons from $11, denim aprons from $20, cotton canvas from $17, signa- ture leather look aprons from $46, with many other designs available in the $20-$30 range.
Which apron is for you?
As you can see, the apron is a staple for many different types of industries. Depending on the nature of your industry or needs and in part your personal choice, there is an apron that will suit. Whether it be the traditional bib, crossback or waist apron, something utilitarian or a bit unique, simple black or white, or a vibrant colour to match your branding, Aussie Chef Clothing Company will have the apron for you.