From the very beginning, the humble apron has been a symbol of hospitality. Whether worn by grandmothers baking apple pies or used as workplace uniforms, this garment has served many purposes for many years. But, do you know the history of aprons? 
At Aussie Chef, we value aprons and their role over the centuries. Throughout the ages, this garment has been used for a range of practical, decorative and ceremonial reasons. Here is the history of aprons and story of their rise, fall and revival.
What is an apron?
Usually tying at the waist, an apron is a garment that protects the wearer's clothing. 'Apron' comes from the Medieval French word 'naperon', meaning small tablecloth. Since this word was often mispronounced as 'an apron', in the 17th Century, the garment eventually became known as an 'apron'.
Over the years, aprons have been worn as part of uniforms, trades and rituals or simply as fashion statements. Since they have many purposes, they are made using many different fabrics, including cotton, linen, leather or even rubber. No matter their function, aprons have been worn throughout many eras and many cultures.
Types of aprons throughout history
Throughout history, there have been many types of aprons used by maids, housewives, workers and even ancient goddesses. Bib, waist, cross back, pinafores, tabards and bungalow aprons are some of the most popular past and present styles. 
#1. Bib Apron
The Bib Apron or Full Apron has been worn for centuries. Also known as the 'French chef's apron', it covers the full length of the body usually to the mid-thigh or knees. Slipping over the neck and tying at the waist, bib aprons were first made from fabric scraps. 
Since the 1880s, this apron's practical design and full coverage have made it an appealing choice for workers. In the 1960s, it was also popular with women who wanted an apron style that did not represent domestic ideals. Today, this type of apron continues to be popular, with cross back aprons, chef aprons and hospitality aprons all usually being bib aprons.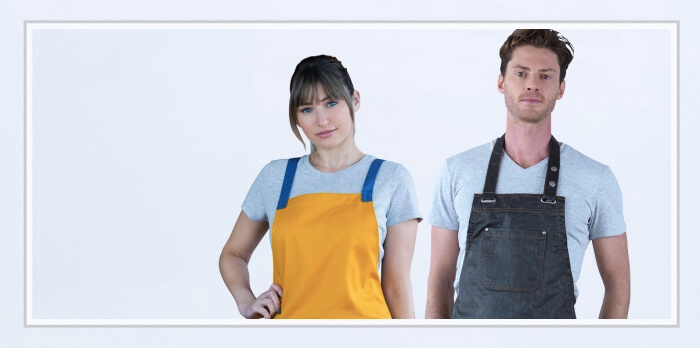 #2. Waist Apron
The Waist Apron or Half Apron is a traditional kitchen apron which ties at the waist and extends to the mid-thigh. In the past, maids and housewives commonly wore this type of apron. It is now a popular choice for modern restaurants, cafés and bars.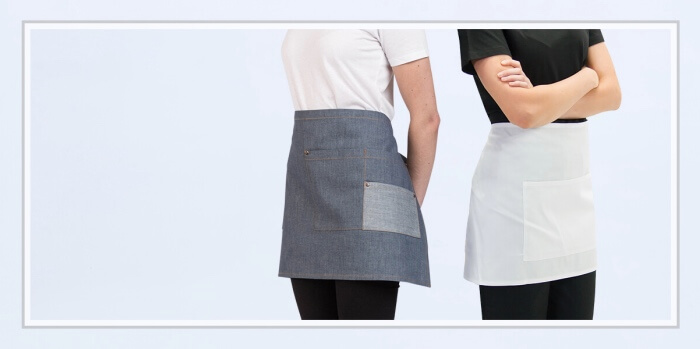 #3. Pinafore Apron
As a classic apron style of the past, the Pinafore was mainly worn by children. Usually adorned with ruffles, ribbons and bows, this decorative garment featured more fabric over the shoulders than traditional bib aprons. In the past, young girls and their dolls often wore pretty pinafores outside of the home.
#4. Tabard Apron
Covering both the front and back of the body, the Tabard Apron has been around since the Middle Ages. Fastened with side or waist ties, it covers the upper part of the body. Originally worn by peasants, monks, cobblers and even knights, this type of apron is now commonly used by bakers, nurses and retail workers. 
#5. Bungalow Apron
During the early 1900s, the Bungalow was a popular apron style worn by housewives. As a simple garment, it often had kimono sleeves, no trim and few fasteners. This type of apron was designed to be worn as a standalone garment, not over other clothing. Appropriate to wear at home only, it was considered to be an item of clothing that fell somewhere between a housecoat and nightgown. 
Aprons Through The Ages
Throughout history, aprons have been used for many practical, decorative and ceremonial purposes. During ancient times, Egyptian pharaohs, Assyrian priests and Cretan fertility goddesses all wore decorated aprons to symbolise their status. Through the Middle Ages in Europe, housewives, tradesmen and artisans wore aprons for functional reasons. In America, Native Americans wore aprons as part of traditional ceremonies, while American colonists wore the garments to protect their clothing.
Regardless of the era, certain coloured aprons have always been used to signify specific trades. For instance, bishops wore purple aprons, stonemasons wore white aprons, cobblers wore black aprons, butchers wore blue-striped aprons, and barbers wore checkered aprons. Many of these apron themes are still in use today.
Rise of the apron in the mid-20th Century
While the apron had long been a housewife's essential accessory, in the 1940s it became the icon of the American domestic goddess. After World War II, the simple family life shaped this period in history. As a result, the apron became the symbol of cosy family ideals.
During this time, American housewives wore aprons to signify their dedication to their family. Whether worn to bake cookies, remove hot pans from the oven, carry in vegetables from the garden, dust furniture, or even signal to their children to come inside for dinner, the humble apron served many purposes.
Fall of the apron in the late 20th Century
During the 1960s, housework ideals became unpopular, and so too did the apron. As more women disliked the idea of being a housewife, more women looked outside of the home for satisfaction. As a result, aprons were suddenly old-fashioned garments that only grandmothers wore.
While aprons became unpopular with women, they remained a staple of the workplace. Aprons were once again primarily worn for functional reasons. Trades such as chefs, butchers, barbers and waitresses continued to use aprons during this time.
Revival of the apron
In recent times, cultural influences have seen the apron undergo a revival. The kitchen and craft movements, increased popularity in cooking, and renewed interest in retro fashions have brought back the apron and made it popular again. Many more clothing suppliers, markets and online craft sites now design and sell contemporary bib and waist aprons, as well as grandma's vintage apron styles. This revival has meant that aprons are now fashionable again. 
Aprons today
As a lasting symbol of hospitality, the humble apron will always have an important place in history and continue to do so today. Whether used for practical, decorative or ceremonial purposes, aprons have played a valuable role through the ages. Undergoing many transformations over the years, this garment has risen, fallen and now been revived. With its renewed popularity, it is once again a functional and fashionable garment worn and appreciated by many.
At Aussie Chef, we are experts in aprons and value their role in the hospitality industry. Our beautifully crafted, stylish and sophisticated aprons come in a wide range of designs, colours and fabrics to suit restaurants, cafés, bars, bistros, hotels, florists or beauty salons. With our extensive choice of apron styles made from the highest quality fabrics, we are sure to have the right apron for your specifications.
If you are looking for aprons, we are your one-stop shop. Our contemporary apron designs in bib, waist, cross back, denim, leather look and PVC are perfect for all occasions. Purchase beautifully designed aprons from our Aussie Chef online store or contact us on (03) 9427 0033.
Do you have any questions about the history of aprons? Why do you value the humble apron? Leave a comment below and our friendly team will be happy to assist.